Electrical Conduit Pipes & Fitting
Electrical Conduit Pipes and Fittings
ELECTRICAL CONDUIT Pipes & Fittings
Newtech Industries (Private) Limited provides high-quality Electrical Conduit pipes and fittings in Pakistan. NEWTECH only deals in high-quality services and pipes according to product standards. Our uPVC Electric Conduit Pipes are the best in all pipe industries in Pakistan. Electrical Conduit is a tube used to protect and route electrical wiring in a building or structure. Most conduit is rigid, but flexible conduit is used for some purposes.
Newtech Industries (Private) Limited excels in the craft of producing a comprehensive range of electrical conduit pipes and fittings. Our steadfast commitment to quality is evident in the meticulous fabrication of NEWTECH's electrical conduit pipes and fittings, intricately fashioned from PVC, strictly adhering to International Pressure Standards for pressured pipes and Non-Pressure pipes that conform to global benchmarks.
While our electrical conduits are renowned for unparalleled quality, it's essential to recognize the value of the best and cheapest HDPE PIPE. NEWTECH's commitment to excellence extends to providing cost-effective solutions without compromising quality. The best and cheapest HDPE PIPE from our offerings stands out as a testament to this commitment, to ensuring reliability and affordability for our esteemed clients.
Backed by exceptional post-sales support, our electrical conduits not only stand as a treasure among our clients but also highlight our dedication to meeting diverse needs. Each conduit proudly bears the hallmark of excellence, meticulously adhering to rigorous international standards. Without a doubt, when it comes to electrical conduit pipes, NEWTECH's offerings rank among the finest in the entire nation of Pakistan, alongside providing the best and cheapest HDPE PIPE options for cost-effective yet high-quality solutions.
Our expertise extends beyond electrical conduit pipes; we excel in the domain of uPVC pipes, PPRC pipes, MDPE pipes, HDPE pipes, and, of course, Electrical Conduit pipes. Our pipe manufacturing services have earned a reputation as some of the most outstanding in all of Pakistan. As part of our commitment to advancing industry knowledge and showcasing our cutting-edge solutions, we are proud to participate in events like the 7th Pak Water & Energy Expo. This allows us to engage with industry leaders, share our innovations, and contribute to the ongoing dialogue about the future of water and energy solutions in Pakistan.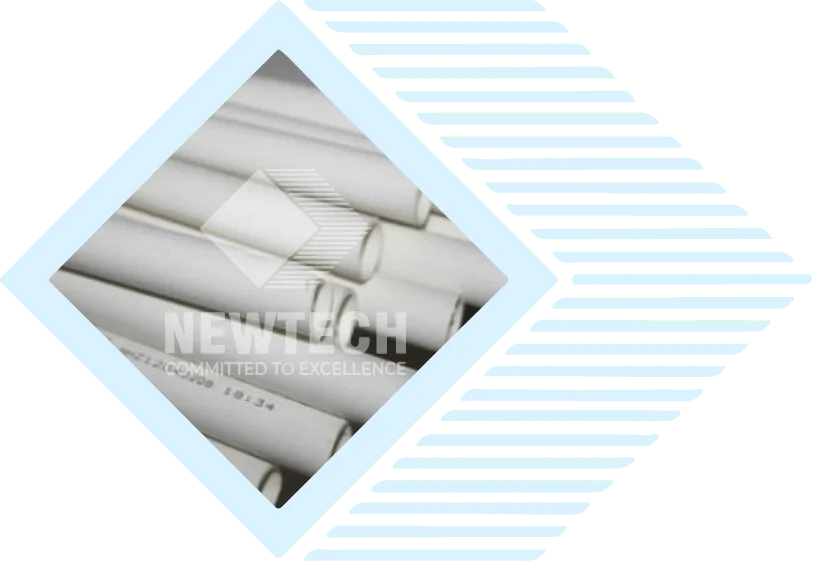 Essential Characteristics
Material Durability
Corrosion Resistance
Mechanical Protection
Flexibility and Bendability
Ease of Installation
Application Areas of Electrical Conduit Pipes:
Residential Wiring
Industrial Facilities
Outdoor Installations
Commercial Buildings
Underground Wiring
Data and Communication Centers
WHY NEWTECH's ELECTRICAL CONDUIT PIPES?
Do not support combustion.
Raw material is not contained cheap fillers.
Easy to install.
Have smooth under and outer surface.
Didn't rust erode or corrode ever.
Keep its properties in variable weather conditions.
Hold awesome physical, thermal and electrical properties.
Manufactured according to the International Standards and National standards as well.
Non-corrosive & resistant to most chemical acids and salts.
Supplied along with formed bends and sockets.
Accessories such as joint boxes, wall boxes and light boxes etc.
Strong and lightweight.
Durable.
Cost-Effective and Feasible.
Nontoxic and Good Insulator
Our uPVC Electrical Conduit Pipes are manufactured according to BS-6099 standards and ranges from ¾ inches to 4 inches.
Frequently Asked Questions