MDPE Pipes and Fittings in Pakistan
"MDPE," or "Medium-Density Polyethylene," is aptly named for its value falling within the 0.926-0.940g/cm3 range, placing it in the medium-density category. The manufacturing process of MDPE involves catalysts such as Ziegler-Natta, chromium/silica catalysts, and metallocene catalysts. This material boasts excellent chemical resistance and remains highly stable at room temperature, with no dissolution occurring at standard environmental conditions.
For your piping needs, Newtech Industries is your go-to source for the best and highest-quality MDPE Pipes and Fittings in Pakistan. Alongside our expertise in MDPE, we recognize the importance of the best and cheapest HDPE PIPE in various applications. NEWTECH ensures that our HDPE pipes not only meet high standards but also provide a cost-effective solution for your projects.
As a leading manufacturer in Pakistan, our commitment to quality makes NEWTECH the premier choice for both MDPE and HDPE pipes. We take pride in showcasing our innovative solutions and engaging with industry leaders at prominent events like the 7th Pak Water & Energy Expo and the Build Pakistan Expo. These platforms allow us to not only demonstrate our cutting-edge products but also contribute to the discussions shaping the future of water, energy, and construction solutions in Pakistan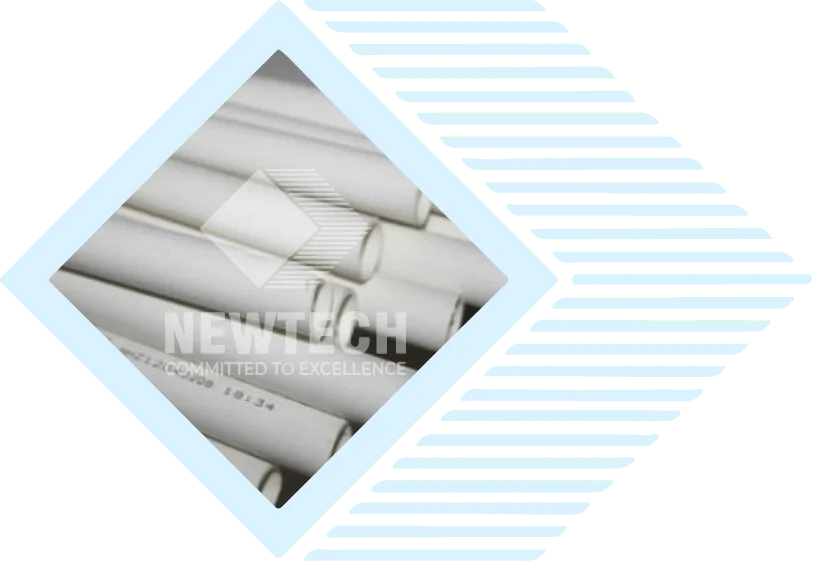 Why Newtech's MDPE pipes?
NEWTECH's MDPE Yellow Gas Pipes are tailored to cater to natural gas applications. Our manufacturing prowess covers a wide spectrum, ranging from ¾" to 6" and 25mm to 110mm diameters, meticulously crafted from PE-80 material. Furthermore, 6" (160mm) diameters are expertly fashioned using PE-100 material, meticulously adhering to ISO and ASTM standards stipulated by industry leaders such as SNGPL (Sui Northern Gas Pipeline Ltd) and SSGCL (Sui Southern Gas Pipeline Company Ltd).
The attributes of MDPE pipes are multifaceted, making them exceptionally suitable for a variety of applications. Boasting excellent shock and drop resistance properties, MDPE pipes offer heightened robustness. Notably less notch sensitive than HDPE, they display enhanced stress cracking resistance. This renders MDPE a prime choice for applications like gas pipes and fittings, as well as a diverse array of uses encompassing sacks, shrink film, packaging film, carrier bags, and screw closures. While HDPE and MDPE share commonalities, the distinct qualities of MDPE make it particularly well-suited for these specified applications.
At NEWTECH, our distinction as one of the finest MDPE Pipes and Fittings manufacturers in Pakistan is cemented by these qualities. MDPE Pipes excel in drop and shock resistance, ensuring reliability even under adverse conditions. This material showcases superior stress-cracking resistance compared to its HDPE counterparts. Its versatility spans a range of applications, with significant roles played in gas pipe manufacturing, carrier bags, packaging film, and more.
Our extensive product range is bolstered by a commitment to providing tailored solutions for our clients. Our adept and professional team boasts extensive industry experience, ensuring the highest standards of expertise. NEWTECH offers an array of product options, catering to diverse needs and varied sizes of products available across Pakistan.
Frequently Asked Questions